10 Stand Out Features Of The 2017 Mercedes-Benz E Class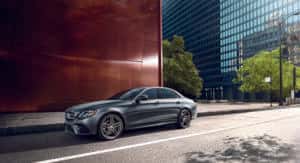 The new version of the Mercedes Benz E-Class Coupe is extremely sleek, but it comes with features that house some of the smartest technology in the industry.
It basically drives itself. The E-Class's semi-autonomous system called Drive pilot allows the vehicle to drive itself at speeds of up to 210kh/h. It's been designed for use on motorways.
It is lighter, quieter and steadier with the aluminum-intensive build that makes it 70 kg lighter than its predecessor. Air body control features multi-chamber air springs combined with adjustable shock absorbers to improve driver comfort. The new aerodynamic design helps keep your ride quieter and improve highway stability.
When the vehicle opens, the taillight LEDs illuminate from the centre of the vehicle out. When you lock the vehicle, the light sequence goes in the opposite direction.
It looks great with a distinctive front end with a low-positioned sports grille and central star, a long bonnet with powerdomes.
It protects from cross winds with the ESP sensory system that integrates Crosswind Assist technology. This feature detects strong gusts of wind and momentarily activates the brakes on the the opposite side of the car for a counterbalance.
It protects you from side impact with the new Pre-Safe Impulse Side, an industry first that prepares the car from an impending side impact. It does this by rapidly inflating the front-seat bolster and move you further from an intrusion and help reduce impact collision.
Sensitive ears are protected with Pre-Safe Sound, this feature senses an impending collision and emits a safe "pink noise" via the sound system to pre-trigger your ears' natural defence against loud noises that occur in an accident.
Two smartphone-like touch pads on the steering wheel allow the driver to control nearly all of the car's features without taking your hand off the wheel.
It stays in its lane with the smart Drive Pilot tech that can stop and go with the flow and help you stay between the lines, even when cornering.
It can see around corners with the world-first 'Car-to-X' communication technology, meaning the E-Class talks to a central information resource that sends the driver in-car updates about driving conditions before you get to them.
With these great features coming to the Mercedes-Benz E-Class, now is a great time to shop for vehicles or Mercedes-Benz parts. Our Brampton Ontario staff invites you to visit us to discuss your interests or needs with Mercedes-Benz. For more information, visit our website at www.mbBrampton.ca. At Mercedes-Benz Brampton, we want to be your dealership!
#MercedesBenzBrampton
#SilverStarBrampton
#MBBrampton
#MBB