2017 Mercedes-Benz Metris Passenger Van Review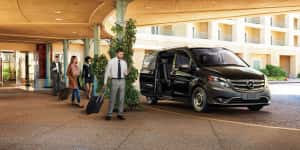 With so many minivan selections, it can be hard to differentiate the three-row crossovers and SUVs to choose from. However, one that may have slipped your mind is the Mercedes-Benz metris passenger van. Built mostly for commercial duty, the Metris can also be utilized as a minivan shopper as well, thanks to its great features.
The midsize Metris is bigger than a Ford Transit Connect but is not as big as a full-size Ram Promaster. The Metris is similar in length to the minivan market but is taller and narrower. This allows for easier movement in the backseat of the vehicle while also allowing more cargo. The raised driving position gives you a commanding view of the road.
Since it is a commercial van, the Metris has less sound insulation than most are used to. However, a nice sound system booms throughout the vehicle for you and your passengers to enjoy. The great legroom for adults in the second and third row allows you to carry many full sized passengers.
The Metris is easier to drive than other commercial vans. It doesn't feel like it is tipping in turns when going around corners. Driving it in a crowded downtown area is easier, thanks to communicative steering and a good turning circle.
With another great addition to the midsize minivan market, Mercedes-Benz shows no signs of slowing down. Our #MercedesBenzBrampton staff invites you to our Brampton dealership to see our selection of Mercedes-Benz vehicles and Mercedes-Benz parts. For more information, visit our website at www.mbBrampton.ca.