2018 Mercedes-Benz E-Class Coupe First Drive Review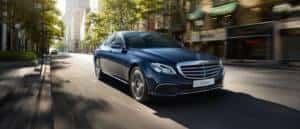 Mercedes-Benz Brampton of Toronto carries all of the latest Mercedes-Benz vehicles. One of the most intriguing new Mercedes-Benz vehicles that is set to come out is the 2018 E-Class Coupe.
–
E-Class
The new generation E-Class has grown 4.4 inches between the axles, and is 4.8 inches long, 2.9 inches wide and 1.5 inches in height. This firmly entrenches the E-Class between the C- and S-Class coupes. The E Coupe shares a lot of its design with the other two-door Mercedes-Benz vehicles. Mercedes has opted to remove the upper contour line found on nearly every other Mercedes-Benz vehicle. New features include a broad front apron, a long hood and a sleek windshield that visually connects with the standard panoramic sunroof.
–
The E coupe is offered with one engine, a twin-turbocharged 3.0 liter V6 that churns out 329 horsepower and 354 lb-ft of torque. Combined with a nine-speed automatic and a choice of rear or all-wheel drive, this vehicle can certainly hold its own on the road.
–
The sense of a space inside, the W213 coupe is noticeable as the vehicle has extra width, thin roof pillars and a lot of glass. A well-functioning dual-screen dashboard provides you with all the information and technology that you need. The rear seat is both inviting and spacious, as it can handle adults with no issues at all for head, leg and shoulder room.
–
Our #MercedesBenzBrampton staff invites you to visit our Brampton dealership to check out our selection of Mercedes-Benz vehicles and Mercedes-Benz parts. We are always open to any questions or problems you may have and we will work our hardest to make sure that you are satisfied when you leave us. For more information, visit our website at www.mbBrampton.ca.