A Test Drive Of The Mercedes-Benz Maybach S550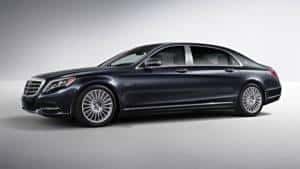 One of the most legendary words in the industry is 'Maybach' and Forbes was lucky enough to take it on a test drive. #MercedesBenzBrampton is happy to carry such a legendary vehicle for you to drive.
–
Enjoying a drive on I-95 in the Maybach is truly a once in a lifetime experience as it tends to run for $178,135(!). The experience is like escorting the President around town in Air Force One, but for Mercedes-Benz. Pressing down on the 4.7-liter twin-turbo V8 is very responsive and exciting. It is reminiscent of the S63 that was tested last year but even stronger.
–
The cockpit mixes space and comfort elegantly with fine materials covering the whole cockpit. A wide screen sets in front of the driver to display the cluster and another wide screen sets in the middle for navigation. The rear interior is absolutely incredible from the 12.3-inch high definition screens to the drink holders that keep your drink hot or cold. The chairs have the ability to fold back for a nap while you dim the LED lights for a calmer setting. It is essentially living like a king or queen.
–
The Mercedes-Benz Maybach is the most luxurious vehicle you'll find, and our Brampton dealership will be happy to tell you all about it.  Interested in buying one?  Let us know! Our staff is always working to answer any questions you may have about Mercedes-Benz. If your vehicle needs a checkup, visit our website at www.mbBrampton.ca to see what service deals we have to offer. Our selection of genuine Mercedes-Benz parts will ensure that you'll find a solution to any maintenance issue that you have.