Tire Packages & Winter Specials
Summer Tire Packages
Balance, install and four wheel alignment (on rims) – $339.95 ***Valued at $495.00***
Mount and balance, install and four wheel alignment (off rims) – $399.95 ***Valued at $540.00***
Balance and install summer tires on rims – $179.95 ***Valued at $262.00***
Winter Care. Safety, meet style.

Stay cool and collected.
In unforgiving Canadian winter conditions, you'll be glad you opted to have winter tires installed. At Mercedes-Benz we've manufactured wheels to match your vehicle's specifications that will keep grinding in snow, sleet, and extreme cold. We've also partnered closely with tire companies to make sure their tires fit as well as if we'd made them ourselves, only giving the seal of Mercedes-Benz approval to the best tires, built to perform in the same winter conditions, and the perfect fit.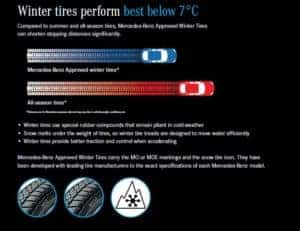 Preparing your car for winter is not only a matter of keeping it in top condition, but also keeping the car, and more importantly, riders, safe. Winter shouldn't prevent you from living your life to the fullest, and slowing you down. We've curated a collection of winter essentials meant to provide you and your vehicle with everything needed to both keep you safe in difficult conditions, and protect your car from the harsh elements. Find Mercedes-Benz approved and authentic winter tires, wiper fluids, windshield defroster and more at our in store Parts Department.