Here is the best BBQ In Toronto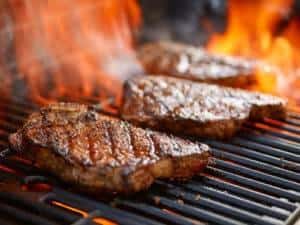 Our Mercedes-Benz Brampton staff loves to get our pig on and eat good barbecue. Toronto offers many great choices to find your fix and we want to help you make that important decision.
Big Crow
Operating for about three years, the outdoor space is similar to a campsite with communal tables and a roaring flame grille in the back. Their take on barbecue is unique with innovative takes on the classic dishes. Big Crow's smoky pork ribs are crispy on the outside, while the inside is fall-off-the-bone tender. The ribs' flavour is brought out by olive oil, smashed grape tomatoes and a basil pesto.
Carbon Bar
Carbon Bar's location is quite historic as it was the original headquarters for Citytv and at one time housed the Electric Circus. Now it has become an industrial space that combines splendid cocktails with a variety of barbecue offerings. The most popular choice is the Pitmaster Platter which comes with fatty beef brisket, deep fried chicken, saucy St. Louis ribs and house pickles.
Electric Mud BBQ
This place is an eclectic mixture of a diner and a bar but gives the vibe of a cottage or ski lodge. All of their sauces are homemade and their meat is ethically sourced from Canada. Pork ribs are smoked for four hours with their fat caps resulting in a pronounced pork flavour that will blossom with the addition of their unique barbecue sauce filled with the aroma of apple and pepper sauce.
Leslieville Pumps
The first thing you notice when you walk in is the 1960's vibe. Prior to opening in 2012, it was an old-fashioned independent gas station throughout the youth of the owners. Utilizing an Oklahoma-made custom smoker, chefs create great dishes like the BBQ Beef Brisket Sandwich. Smoked with a mixture of hickory, mesquite and cherry wood on low heat from 12 to 14 hours, it comes out in a mind blowing flavour that takes you back. A popular claim is that their baked beans taste as if a 90-year-old grandma is cooking them in the back with a cast iron pot.
Our #MBB staff hopes you can find the perfect barbecue spot for you, your friends and family. We would also like to invite you to our Brampton dealership, where we offer a variety of Mercedes-Benz vehicles and Mercedes-Benz parts. For more information, visit our website at www.mbBrampton.ca.