Best Pho In Toronto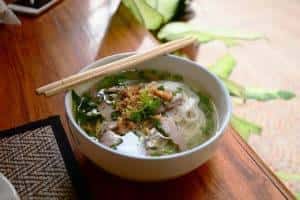 Our #MercedesBenzBrampton staff loves to explore great restaurants in Toronto. One of our favorite dishes is Pho, and there are lots of Toronto restaurants that serve this classic Vietnamese dish. We are always on the lookout for perfect pho, from the broth to the noodles. In this article, we are going to list our favorite places to get this Vietnamese favorite.
Rua Vang Golden Turtle
This restaurant has been around for some time, as indicated by the wait time to be seated. However, once orders are placed, it comes out quickly. Pho is the big ticket here, but there are other options like vermicelli, bun, congee and spring rolls. We think it's delicious.
Pho Tien Thanh
Right down the street from Rua Vang Golden Turtle is Pho Tien Thanh. It's pho has been claimed Toronto's best by many diners. The restaurant is simple and the menu offers more than 100 items including rolls, bun, seafood and barbecue meat dishes. There are also vegetarian options.
Pho Linh
In Brockton Village, Pho Linh is a sparsely decorated restaurant filled with Vietnamese patrons. Pho comes with bean sprouts, hot peppers, Thai basil, hot sauces and hoisin sauce. What makes Pho Linh stand out is the fresh noodles they use, which are lighter and wider than typical pho noodles. On top of that, the menu is reasonably priced.
Pho Pasteur
Known for its large portions, you will be sure to leave Pho Pasteur with a full stomach. Open 24-hours, you can stop by and get pho at whatever time you want it.
Pho Phuong
Located in Dundas West, this relaxed restaurant serves excellent pho. It is often busy, but is a slower restaurant compared to the fast paced of other pho restaurants. Pho Phuong's menu also includes a selection of Vietnamese classics not offered at other pho spots.
Pho Hung
This reliable restaurant has earned a loyal following, thanks to their service, prices and terrific pho. The pho is the main attractions but there is also other options like bun, soups and Vietnamese shakes.
Phoenix Restaurant
Known for its broth, Phoenix Restaurant has been serving pho since 1999. The bright and spacious restaurant can fit large groups of people and it overlooks Dundas West.
With all of these great options, our Brampton dealership staff hopes that you find the perfect pho spot to satisfy your hunger. When you're looking for the best vehicles, prices and service, we hope you'll come see us at our state of the art showroom at Mercedes-Benz Brampton.For more information about us, visit our website at www.mbBrampton.ca to see our Mercedes GTA service and inventory.
#MercedesBenzBrampton
#SilverStarBrampton
#MBBrampton
#MBB