Best Soup In Brampton Area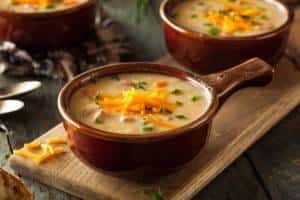 There are so many restaurants to choose from when it comes to food in Toronto. However, if you are craving soup because of the cold, the team at Mercedes-Benz Brampton has some recommendations that will come in handy to satisfy your appetite.
Ravi Soups
If you're looking for soup with great taste and flavor, then this is the perfect place. With choices like Chicken Hot Pot Broth, Butternut Squash, Corn Chowder or Curried Apricot and Red Lentil, you'll find plenty to please your taste buds.
Soup Nutsy
In the Toronto underground you'll find Soup Nutsy in various locations. There's a variety of featured soups that will please to most dietary needs and can be completed with bread or fruit/vegetables. There is even an option to order online to be picked up on arrival.
Zoup!
If you're looking for a soup with a combination on the side, then this will serve you well. Soup comes with a salad or sandwich on the side. The menu changes daily, and there are soups that are low fat, dairy free, vegetarian, spicy or gluten-free.
Esther Queen of Soups
This fresh, homemade soup has no artificials added or corn starch, flour, dairy, oil, cream or sugar. It is just simply a healthier soup. With a new variety of soup options daily, you can choose from daily soup, lentil or chicken soup.
Tatsu Bread
This artisan bakery has great fresh breads, sandwiches, baked goods and soups. Their tomato soup is full of fresh tomatoes and spices, with no dairy. They also have a chili and cream of broccoli soup that is highly recommended.
Thrive Organic Kitchen & Cafe
Thrive prides itself on creating food that 'maximizes nutrition for optimum health by using superfoods as well as organic, natural and whole food ingredients.' Every day they make up a batch of one of their seven favorite soups. It's a great pairing with one of their other dishes or on its own with a piece of home-made sprouted bread.
With these fantastic soup selections, you'll be sure to find one that fits your liking. Our #MercedesBenzBrampton staff hopes that you at least try one to warm up during the winter. For more information about us, visit our website at www.mercedes-benzbrampton.ca. Our Brampton dealership proudly serves Mercedes-Benz vehicles and offers Mercedes GTA service. We look forward to serving you!
#MercedesBenzBrampton
#SilverStarBrampton
#MBBrampton
#MBB