Can You Trade In a Financed Car?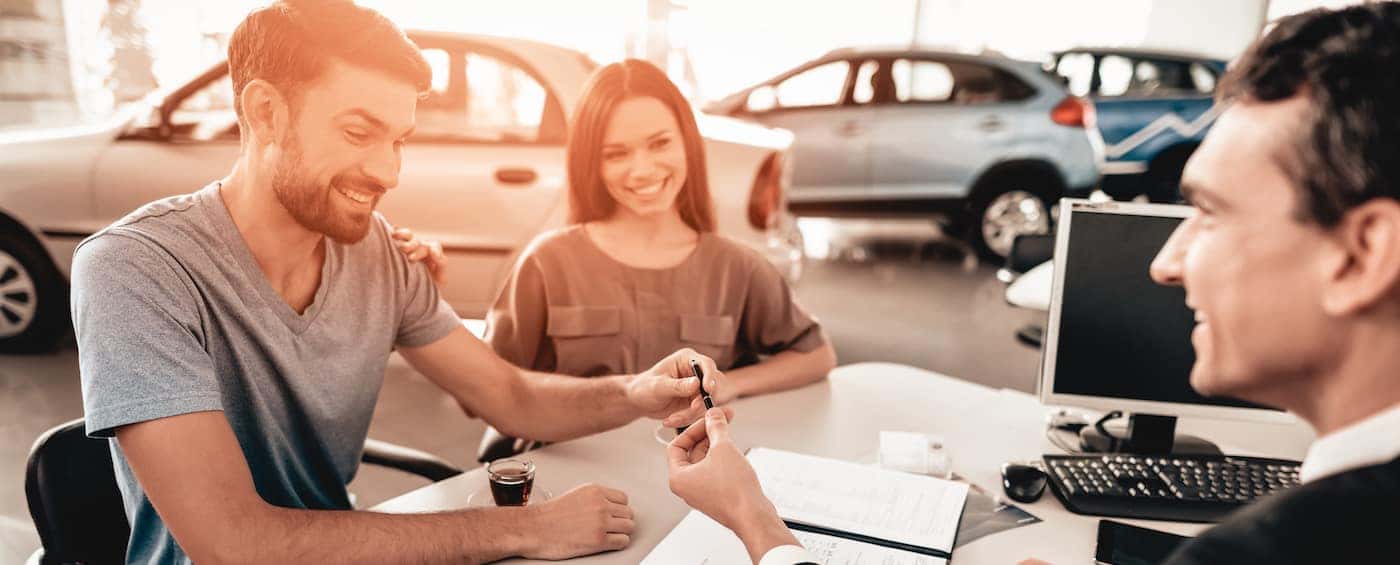 Of course. Trading in a financed car is simple, but how does trading in a financed car work?
Mercedes-Benz Brampton is here to answer all of your questions. We'll even cover how to trade in a financed car for a lease. Read on for a thorough answer to your questions, and then value your trade and reach out to our finance team for help determining what the best financial strategy is for your needs.
How Does Trading In a Financed Car Work?
First things first, Caledon drivers wondering, "how does trading in a financed car work?" should remember that if you trade in a financed car, you're still responsible for the loan. If you do opt for trading in a financed car, you'll need to make sure you can pay off your loan with the money you receive from the sale. Here are the steps that Georgetown drivers should take in order to ensure that trading in a financed car is worth it:
Look at your monthly statement and determine the remaining balance on your loan.
Get an estimate from our trade-in valuation tool.
If the remainder on your loan is less than the trade-in offer, you'll have money leftover. For example, if you still owe $7,000 on your car in Orangeville, and the dealer offers you $8,000 to buy the car, the loan can be paid off and you'll have $1000 to contribute towards your next car.
Conversely, if the remaining balance is greater than the trade-in value, you have "negative equity." If you're not overly bothered by this and still want a car, many dealers can wrap up the additional money you'll owe into the loan on your next car.
If you're looking to trade-in a financed car for a lease, many dealers will allow Halton Hills drivers to apply the value of their trade-in towards the down payment and future payments of a lease contract.
What Does "Rolling Over" A Loan Mean?
Now you have answers to the question, "How does trading in a financed car work?", and you know the steps of trading in a financed car, and even know how to trade in a financed car for a lease, you're nearly ready to hit the lots of greater Brampton. That said, Bolton drivers need to know one more thing — don't roll over a loan. Some dealerships will tell drivers they'll pay off your old auto loan when you trade-in a financed car no matter how much you owe. This is disingenuous. What they really mean is they're going to secretly bury the remaining value of your loan in the loan for your next car.
Rely on Mercedes-Benz Brampton for Your Next Vehicle
When you're ready to trade-in your financed car, trust Mercedes-Benz Brampton for a transparent car buying process. We'll work with you to find the best option for your needs and budget. If you have any questions, contact us online or give our finance department a call at (888) 436-3849. We look forward to showing you the car buying experience you deserve. While you're here, be sure to check out our overview of how to refinance a car loan and how car financing works if you have more fundamental questions.
More From Mercedes-Benz Brampton
Caledon drivers considering a Mercedes-Benz GLB, read on for a comprehensive breakdown of Mercedes-Benz GLB price and Mercedes-Benz GLB 35 AMG price by trim level. Then fill out a pre-approval and reach out to Mercedes-Benz Brampton to schedule for a test drive. View Inventory Contact Us 2021 Mercedes-Benz GLB 250 SUV: $46,500 MSRP* The 2021 Mercedes-Benz…

If you're looking to add elegance to your commute to Caledon, the Mercedes-Benz GLC is a maneuverable midsize SUV with solid fuel economy numbers, high performance, and bevy of cutting-edge interior features. It's also exceptionally spacious for its segment. If you're looking for an SUV that doesn't sacrifice spaciousness for maneuverability, the Mercedes-Benz GLC is…

When it comes to GLB seating capacity, Caledon drivers will have their pick of a 2nd-row 5-seater or 3rd-row 7-seater. Either of the GLB configurations offers you roomy GLB cabin dimensions and GLB cargo space. Read on to learn more about the GLB interior, and then fill out a pre-approval to take the next step….