What is a Good Interest Rate for Your Car Loan?

---
To help you understand the right interest rate per car loan, while also helping you to not overpay, we've crafted a simple chart to break down how to get the best interest rate on a car loan. We'll help you learn about average new and used car loans based on the APR, and your credit score. Once you have all the info you need, you can get approved for financing from the comfort of your home!
New and Used Car APR
| | | | |
| --- | --- | --- | --- |
| Average Credit Score for New Car | Annual Percentage Rate | Average Credit Score for Used Car | Annual Percentage Rate |
| 781-850 | 3.17% | 781-850 | 3.8% |
| 661-780 | 4.03% | 661-780 | 5.48% |
| 601-660 | 6.79% | 601-660 | 10.1% |
| 501-600 | 10.98% | 501-600 | 16.27% |
| 300-500 | 13.76% | 300-500 | 19.32% |
How Do You Get the Best Interest Rate?
To help secure the best interest rate possible, you're going to want to plan ahead. Start by looking through your credit history, making sure to note the score. A higher score will translate to a lower interest rate. It helps to also be ready for potential negotiations. So if you're wondering what a good interest rate is, the chart above shows it can be anywhere between 3.17% and 13.76%, depending on your credit score.
Once you've got the info you need, prepare for negotiations in case they offer an interest rate higher than what you anticipated. Also, take extra care to note every aspect of the offer. Don't focus solely on the payment and ignore the other little details. Make sure you closely examine every factor going into the offer.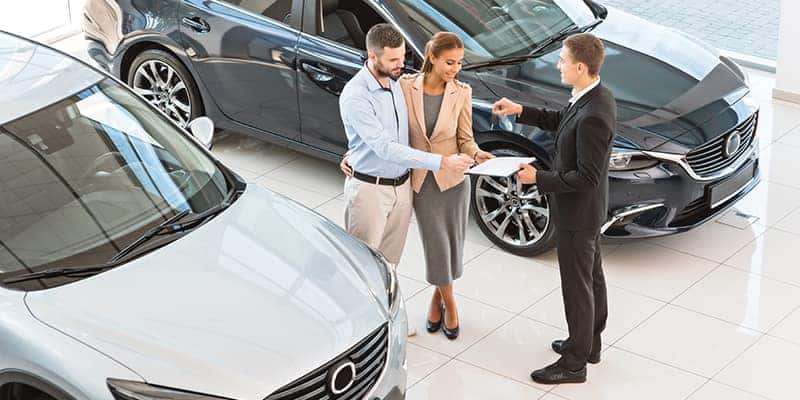 What is the Average Interest Rate on a Car Loan?
If you have a three-year car loan, the average Orangeville interest rate comes in at around 3% to 4.5%. Remember, don't focus too much on what the averages may be and instead make sure you're getting the best offer for your situation. Your offer will probably be different than the average since it's based on your credit score and where you're trying to secure the loan. At the end of the day, the best way to compare car loan offers and different interest rates is by shopping around at several locations, or by getting pre-approved and comparing those offers.
Get Auto Financing at Mercedes-Benz Brampton Today!
Our expert finance center is prepared to help guide you through the pre-approval process and get your inside of your new Mercedes-Benz in Brampton today! If you have any questions, or you simply want to start comparing interest rates, don't hesitate to contact us today! While you're here, be sure to check out our guide on car lease takeovers!
More From Mercedes-Benz Brampton
Learn more about the Mercedes-Benz GLC class of SUV and Coupe prices with our finance center at Mercedes-Benz Brampton in Caledon. There are five different Mercedes-Benz GLC teims, each offering incredible features such as automatic high beams, Apple Carplay and Android Auto, USB ports, and more. You can also enjoy an impressive range of specs, fuel…

Looking for a solid choice among luxury SUVs in your search for an upgrade to your Caledon driving experience? The 2019 Mercedes-Benz GLC comes with roomy dimensions and features like DYNAMIC SELECT® and 4MATIC® All-Wheel Drive, making it a great pick. Find out more about Mercedes-Benz GLC price points from Mercedes-Benz Brampton here, along with AMG® GLC…

Service CentreSpecial Offers One of the most unwelcoming sights to see when you are driving your vehicle is your check engine light turning on. It becomes another thing to add to your large to-do list and almost always at a time when you least expect it. Thankfully, Mercedes-Benz Brampton of Brampton is here to take…