Looking For A New Cargo Van? The 2017 Metris Is For You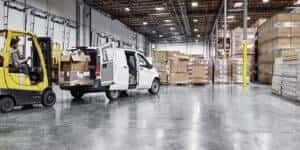 Are you getting tired of your cargo van and are looking for a new and improved working experience? The 2017 Mercedes-Benz Metris Cargo Van is built just for you. This van is engineered to make your life easier so you can focus on the more important tasks at hand and not worry about whether your vehicle will be enough for the call of duty.
The rear has been crafted for your convenience with double rear doors and an optional liftgate door. Both of these features deliver maximum clearance which is perfect for loading and unloading cargo up to 186 cubic feet. A 5.8 inch full-color screen offers optional navigation to get you going exactly where you need to go in the fastest route possible. An automatic climate control system allows you to manage airflow and temperature inside at all times, keeping you and your passenger comfortable. The multifunction steering wheel lets you control the most important features while keeping your eyes on the road.
The exterior is designed with contoured lines, chiseled fascia and a ruggedly unique design that comes at the perfect size at 202.4 inches in length, 75.2 inches in height and 88.3 inches in width. The interior is engineered to give you the storage, comfort and flexibility that every job demands. Convenient dashboard storage, connectivity options, comfort, room and maneuverability allows you to design the interior exactly as you want it.
The efficient gasoline engine with optional ECO start/stop options helps reduce fuel consumption and emissions by shutting off the engine at standstill. A quick shifting 7-speed automatic transmission is designed for maximum efficiency, improving fuel economy, reducing noise and giving you a longer service life.
The 2017 Mercedes-Benz Metris Cargo Van has all of these fantastic features waiting to be taken advantage of by you. Our #MBB dealership proudly carries this cargo van along with other select Mercedes-Benz models. Our Brampton dealership staff invites you to shop our Mercedes-Benz vehicles and genuine Mercedes-Benz parts. For more information, visit our website at www.mbBrampton.ca.
#MercedesBenzBrampton
#SilverStarBrampton
#MBBrampton
#MBB