Mercedes-Benz Brampton Offers Top Tier Service In Toronto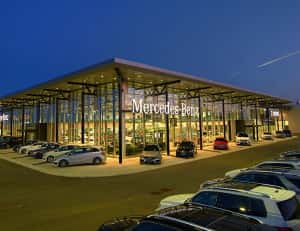 Having service work done on your vehicle is a chore that seemingly wants to accomplish. However, our #MBBrampton service team is here to make your life easier. We work extremely hard to keep our staff well trained and up to date on all of the recent Mercedes-Benz vehicle issues. You'll be relieved that you had to your service done here once it is all done.
Mercedes-Benz Brampton History
Our state-of-the-art facility has been proud to serve one of Canada's fastest growing communities in Brampton. It is the latest Mercedes-Benz dealership to open in the Greater Toronto Area and we are looking forward to continuing providing excellence to our valued customers.
Our Team Handles Scheduled Maintenance & Unexpected Issues Like Professionals
The best and easiest way to keep your vehicle healthy and running longer is to maintain its recommended service schedule. Our service technicians can identify and recommend the best service schedule for your vehicle. We run many specials to save you money in our View Specials section of our website at www.mbBrampton.ca.
There are also issues where you do not have time to schedule a service. When issues arise quickly, our service team can diagnose and assess the issue immediately and recommend the best service for it. With our state-of-the-art technology, all the best tools are at our disposal waiting be taken advantage of. We have a commitment to providing a positive service experience here at Mercedes-Benz Brampton.
Mercedes-Benz Brampton Does It Right The First Time
You can trust our Mercedes-Benz Brampton service team to get your vehicle repairs right the first time it rolls into the shop, no matter what Mercedes-Benz parts are acting up. You can be confident that no matter the issue, our highly trained professionals will get it done right the first time. We understand that the less time you spend getting your car repaired, the better. We want that for you!
You can call us or make an appointment at www.mbBrampton.ca. Don't forget to look at our service specials and feel free to visit our Brampton dealership as well, to see our inventory for yourself. We look forward to serving you!
#MercedesBenzBrampton
#SilverStarBrampton
#MBBrampton
#MBB