Mercedes-Benz Brampton's Favorite Doughnuts In Toronto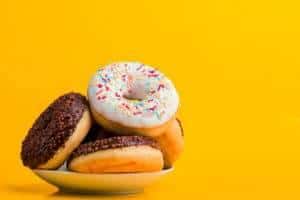 At #MercedesBenzBrampton we are no strangers when it comes to doughnuts. Our staff loves to satisfy our "sweet tooth" every once in awhile so naturally we quickly discovered the best doughnut shops in town. Did you know that Toronto has more doughnut shops per capita than anywhere else in the world? Luckily for you, this article will help sort the best from the rest for you to enjoy based on our recommendations.
Sanremo Bakery
Etobicoke's renowned Italian bakery is a favourite for freshly-baked doughnuts. They are made every morning and they come filled with raspberry, chocolate, custard, blueberry and other fruit jams. If you plan on going, be sure to get there early as they sell out very fast!
Dough by Rachelle
These raised yeast doughnuts add a little extra sweet to the brunch service. The maple-bacon flavour is a fan-favorite but you can't go wrong with the brown butter glazed doughnut, as well.
The Rolling Pin
The Rolling Pin's flavours can get creative, such as the Funnel cake and Nutella bomb doughnut. However they are still delicious. Some of the doughnuts include a "shot" of flavour, like the Butter-My-Scotch, which comes with a shot of caramel to drizzle on top of a butterscotch doughnut. The Rolling Pin also offers a one of a kind Doughnut Cake which can be made in any flavour you choose and serves 8-10 people.
Through Being Cool
Known for making some picture-perfect and vegan doughnuts, Through Being Cool has a real niche in the doughnut market. These doughnuts are fluffy and yeast-based, and they come in PB&J, Chocolate Brownie and Blueberry flavours. Their flavours change every day and there are seasonal specialties that are available throughout the year.
Doughnuts can be a tough thing to master, thankfully these shops we suggested have separated themselves from the rest of the pack in Toronto. Our staff hopes you can get to each of them eventually to find your favorite. Our Brampton dealership hopes you can also visit us on-site or at our website at www.mbBrampton.ca. We have the best selection of Mercedes-Benz vehicles and Mercedes-Benz parts available, and we look forward to serving you!
#MercedesBenzBrampton
#SilverStarBrampton
#MBBrampton
#MBB