Mercedes-Benz Brampton's Tips For Saving At The Gas Station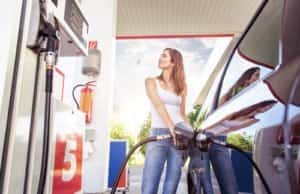 Here at #MBB, we are always looking for ways to keep your money in your pocket. That's why our Mercedes-Benz Brampton dealership service team has designed a guide that will help you save some money at the pump and make you a little happier. Our factory trained technicians are available for maintenance checks at any time for your vehicle but today we want to share one our big secrets: that being that you should never let your gas tank go under ¼ full.
Why Does This Matter?
Humans aren't perfect. We forget things like gas and inevitably our gas light turns on. It's no big deal, but it could be more costly than you would expect. When your vehicle runs on low fuel, you risk wearing out the fuel pump. This is caused by more air entering the fuel pump which exposes it to wear. With more air entering, dirt can start to accumulate in the bottom of the gas tank, causing the dirt to be pushed through the engine. Dirty gas is a big no-no for vehicles and can cause damage throughout the engine, leading to repairs.
Risk Of Being Stranded
You never know how fully prepared you are until emergency strikes. A vehicle running on gas less than ¼ of a tank can be the difference between comfort and extreme worry in life-threatening situations. A big storm can completely halt traffic for hours on end, leaving you with just your vehicle. You could also be lost and in a dangerous location, eliminating the possibility of pulling into a gas station. It's important to make a habit of keeping your gas tank full to avoid these situations.
Mercedes-Benz Brampton Service
At Mercedes-Benz Brampton, our service staff is constantly updated throughout the year on the latest Mercedes-Benz trends and models. This allows us to utilize our array of genuine Mercedes-Benz parts to the best of our abilities and get our customers vehicles fixed efficiently. We always ensure that our work is done in the correct manner and we are honest and upfront with any issues your vehicle may have. You can also ask us any other questions and we'd love to help you extend your vehicle life in any way. For more information regarding service, or if you have any questions, visit our website at www.mbBrampton.ca.