Mercedes-Benz Elegance of E Class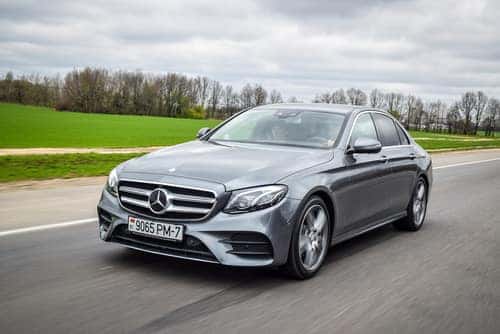 The Mercedes-Benz E class is an executive car that is the middle class between C and S class models. It is also considered to be a mid-sized luxury saloon, so Mercedes-Benz has chosen to term it as the 'Executive car'.
Although the production of E class officially started in 1993, its history can be traced back to 1953 to the first ever Mercedes-Benz W120, which was also called the Ponton 180. The Ponton 180 featured a smaller four cylinder engine and was a stylish car.
The Mercedes-Benz midsize cars would continue to be produced until 1993. Mercedes-Benz then officially launched the E class with its first generation model, known as the W124.
The current fifth generation of the Mercedes-Benz E Class is the best executive car that you can buy in the market today. Here are some of the reasons that your next car should be an E Class from Mercedes-Benz:
Elegance
There is a reason why so many people believe that the 'E' in E Class stands for elegance. The Mercedes-Benz E class rules the category of executive cars with its awesome styling and strong presence. The attention to detail in building this car surely pays the price as it is visible from far away.
The interior is astonishingly neat and simple and makes you feel comfortable right after entering. The exterior aesthetics of the car are carved in such a manner that it looks pleasing to the eye. The E Class truly stands out on the road with its bold presence and commanding respect from every other vehicle.
Performance
Few competitors in the luxury executive car category can keep up with the E Class. The different variants of E Class are designed with a combination of comfort and performance. The 2018 Mercedes E Class comes with powerful engines such as:
0 L M270 Turbocharged inline 4
0 L M276 V6 Bi-Turbo
0 L M178 V8 Bi-Turbo
0 L OM654 Turbo-diesel Inline 4
0 L OM642 Turbo-Diesel V6
These powerful engines give the E Class performance figures that are second to none.
Technology
The E Class comes loaded with technology and features that cannot be found in the competitor's cars.
Autonomous Drive
Mercedes' autonomous driving feature allows your E Class to drive or even steer itself using the cameras and sensors that are placed all around the car.
Adaptive LED
Another cool feature in the E Class is the adaptive LED headlamps. These LEDs can be controlled with ease and can be set to your favorite setting.
Drift Mode
The AMG variants of the E Class feature a drift mode which allows the vehicle to slide around on the track, and have fun drifting without even mastering the art.
When you are looking to buy a new or even a certified pre-owned E Class Mercedes-Benz in Brampton, head over to your local dealership to get one today.