Mercedes-Benz G-Class is the Best SUV You Can Buy Today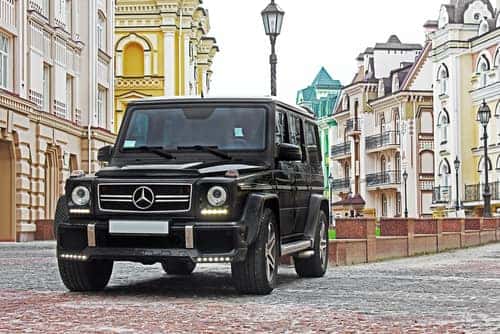 There is no doubt that Mercedes-Benz G Class or 'G-Wagon' is one of the most iconic cars of all time. It was an instant hit when it rolled out of its assembly in Graz, Austria in 1979. 39 years later, the G Class is still going strong and better than ever. It is considered by many experts as one of the best off-road luxury SUVs on the planet.
History
The G Class was a result of a combine project of two big companies at the time. It all started in 1972 when Daimler-Benz and Steyr-Daimler-Puch signed an agreement to produce an SUV with extreme off-road capabilities which rode good on road as well. A year later they came up with a prototype and started testing it in extreme conditions. Finally getting the approval from the bosses the companies would start the construction of a production facility in Graz, Austria where the G- Wagen would start in production.
The first generation of the G-Wagen would start selling in 1979. It was called the 460 and it featured variants of several smaller engines which were mostly inline 4s and 6s in both petrol and diesel versions as well.
11 years later in 1990, Mercedes-Benz would upgrade the model of the first generation G-Wagen by launching the model 463. The 463 had upgraded chassis and bigger V8s and V12s were introduced as engine variants. Basically it is the G Class we know today as it hasn't changed till 2018.
Styling
It is often said that perfection needs no improvement; this saying fits perfectly on the G Class. Mercedes-Benz G Class first generation lasted 39 years with exactly same aesthetics of the car. It is one of its unique qualities and it has aged really well.
Off-road King
Mercedes-Benz G Class is the ultimate off-road SUV that has dominated roughest of terrains around the world. It is specially designed for every possible off-road situation you can encounter. The newer models have special features such as suspension adjustments and differential locks.
Pride and Performance
The G Class truly stands out on the road with its incredible personality and presence. But when it comes to performance, the number of competitors drops pretty quickly. The G Class comes with engine variants such as turbo charged V8 and big turbo charged V12s. These mammoth blocks produce incredible power output that makes a heavy vehicle move like a hatchback.
Variants
There have been so many great versions of the G Class throughout the years. The one-off Popemobile from 1980 is where it all started. The G Class is also available in AMG versions (as every Mercedes-Benz) which are more crazy looking and insanely powerful.
Mercedes-Benz G Class is the most iconic SUV in the history of the company. It is loved by many SUV enthusiasts around the world. If you are resident of Brampton, Ontario and looking to purchase a G Class SUV then the best place to go is the Brampton Mercedes-Benz dealership. You can get new and certified pre-owned vehicles all under one roof here.