Mercedes-Benz S-Class Sedan Is What Every Car Looks Up To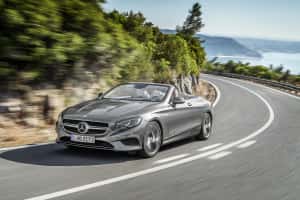 The highest class line of Mercedes-Benz sedans is the S-Class. It is truly what all cars look up to due to its design, performance and technology. This article is going to cover what makes this vehicle so special and why you should consider making it your next ride.
Design
For generations, the S-Class Sedan has been instantly recognizable because of its design as well as its ability to be one step ahead of all other sedans. It is strong, powerful and majestic while also being sleek and athletic. It glides down the road with ease and stands above any crowd. The S-Class cabin is richly upholstered, precisely tailored and covered in fine wood. Along with a variety of trim options, nearly 300 LEDs let you set the tone in your cabin with seven different hues. The comfort of the S-Class is designed to stimulate your senses with features such as the cabin air being double-filtered, ionized and infused by an innovative aromatherapy system. The armrests can be heated, the seats offer a "hot stone" massage and the rear cabin is inviting with four available configurations.
Performance
The engine can vary from Two Direct Injection biturbo V8s, a plug-in hybrid with a biturbo V6 and torque-rich electric motor, biturbo V12s and a new 9-speed for many of them. You can choose from ultralow emissions to ultra-high power. The S-Class truly accelerates the pace of progress as they turn fuel and air into power and emotion. No matter the S-Class chosen, the suspension offers a choice of modes: adaptive damping or automatic leveling. S550 models own the road with lightweight, quick-thinking Airmatic while Magic Body Control is an available camera-assisted gadget that can see bumps ahead and react to them in real time. The advanced all-wheel drive of the S550 4Matic works constantly to send the engine's torque to the wheels for maximum performance.
Technology
For generations, the S-Class had predicted the safety standards of the future. It continues those standards by literally looking ahead and 360 degrees around to spot hazards that are present to you. A combination of standard and optional systems can alert the driver, assist in braking and even respond autonomously to help avoid collisions with other vehicles and pedestrians. Dual 12.3-inch high-resolution screens bring together the clarity of analog-style instruments with lifelike animated displays of driving systems, vehicle settings, entertainment and navigation. A console-mounted touchpad makes the advanced Comand system intuitive to use so that even the newest features feel like second nature to you. With nationwide SiriusXM radio and global internet radio, plus many ways to bring your own audio, the S-Class offers limitless listening options. Two sound systems by Burmester offer a great surround sound or a High-End 3D system that pushes the limits in audio quality. The Mercedes me app is available to connect you to your world, letting you enjoy in-vehicle apps like Yelp. It can start your car, lock the doors and more, remotely.
The combination of design, performance and technology comes together for a truly special Mercedes-Benz S-Class vehicle. The craftsmanship and stand out performance gives you a unique driving experience. At #MBBrampton, we are proud to be the best Brampton dealership in town, with the best Mercedes-Benz parts and vehicles available. If you'd like to know more information, visit our website at www.mbBrampton.ca. We look forward to serving you!
#MercedesBenzBrampton
#SilverStarBrampton
#MBBrampton
#MBB