Our Staff's Choices For Italian Food In Toronto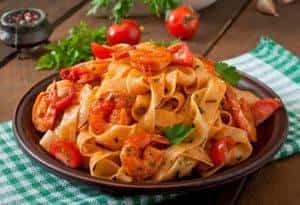 One of the most popular types of cuisine in Toronto is Italian. The flavourful, fresh ingredients just cannot be beat. Thankfully, the staff at Mercedes-Benz Brampton is well informed when it comes to the best Italian restaurants in Toronto, and we want to help you out! Here are a few of our favorites.
Enoteca Sociale
The Albacore Tuna Conserva at Enoteca Sociale is our favorite dish and a must try. THe fresh tuna is poached in olive oil and seasoned with a variety of aromatics. Finished with celery ribbons, pickled shallots, fried capers, garlic aioli and serrano chili, it's a classic Italian plate.
Vaticano
Vaticano has developed a reputation as the Italian hotspot when celebrities come to visit in town. It's easy to see why they typically flock here as Chef Felice has crafted a menu filled with fresh ingredients and authentic Italian dishes. The true standout is the lasagna, crafted with hand-made noodles, fresh tomato sauce and sauteed ground beef with a topping of mozzarella cheese to get the perfect texture in the oven.
Little Anthony's
The prototypical Italian entree belongs to Little Anthony's Chicken Parmigiana. This locally-sourced chicken is topped with house-made tomato sauce, fresh parmesan cheese and smoked provolone. First the chicken is pan fried to perfection, then finished in the oven until the cheese turns a golden brown. With a side of spaghetti pomodoro, this is the ultimate Italian dish.
Tutti Matti
This Tuscan restaurant has plenty of amazing choices on its menu, but we recommend the pinci. It's a hand-rolled pasta that originates in Tuscany. The meal starts with the preparation a day before, when wild boar is marinated for up to 24 hours. The fresh-made pasta is boiled to order and served with a tender wild boar ragu.
These fantastic Italian restaurant destinations will satisfy your cravings in Toronto. Our #MBBrampton staff hopes you can hit all of these spots so that you can find your favorite and recommend them to others. As the premier Mercedes-Benz dealer in Brampton, we invite you to visit our dealership to shop for Mercedes-Benz vehicles and genuine Mercedes-Benz parts. For more information, visit our website at www.mbBrampton.ca.
#MercedesBenzBrampton
#SilverStarBrampton
#MBBrampton
#MBB