The 2017 E400 4MATIC Is The Best Wagon Money Can Buy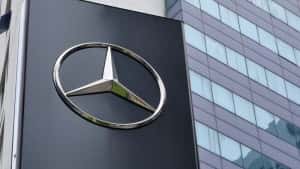 Mercedes-Benz wagons are one of a kind and the E-Class wagon is no different. This vehicle is great for a family as it has ample room and features to back up its price tag. The features, design and safety are what makes this wagon stands out from the rest.
Features of the 4MATIC
The 2017 version sports a 3.0 liter V6 biturbo with 329 horsepower and a 0-60 time of 5.3 seconds. With an engine that combines twin turbos and advances in lowering emissions and fuel consumption without sacrificing performance, the engine will have you feeling alive on the road. An ECO Start/Stop system automatically shuts off the engine at stoplights and other idle scenarios to save fuel and reduce emissions. When you lift off the brake, the engine instantly restarts so that it can immediately take off.
A new 9-speed automatic transmission has a greater range of ratios and shorter steps between gears to deliver more seamless power. A multimode drive program selector on the console allows you to transform the vehicle's character with a flip of a switch. Four modes include ECO, Comfort, Sport and Sport+ that alter throttle response, shift points and steering effort. The 4-wheel independent suspension features a redesigned 4-link front axle and further engineering of the standard 5-arm multilink rear design. Both feature numerous lightweight, highly rigid forged aluminum components. Upgraded brakes included perforated front brake discs, grasped by painted calipers featuring "Mercedes-Benz" lettering.
Design
The 6th generation of the E-Class Wagon allows a roomier inside, sleeker outside and a stronger look all over the vehicle. With 2.6 inches of added wheelbase and classic proportions, this wagon delivers elegance with a sporty stance. AMG body styling inspires an aggressively shaped lower body to enhance both aesthetics and aerodynamics. The three-dimensional flow of the E-Class cockpit is fluid, from the natural feel of the controls to the clarity of information delivered to the driver. All-LED exterior lighting illuminate uniquely with the "Stardust" reflector technology to create a one of a kind look. With a touch of a button, the tinted glass sunroof tilts up at the rear for ventilation, or slides open for a great view of the sky above.
Safety
Car-to-X services are featured as a part of mbrace Connect. Mercedes-Benz mbrace services operate where cellular and GPS satellite signals are available. This feature allows you to control your vehicle from your phone and you can communicate with numerous features from inside the vehicle. The Electronic Stability Program interprets information to electric power steering and suspension sensors and combines with Crosswind Assist to help detect the effects of strong side winds while driving at high speeds. The new Pre-Safe can detect instability during certain vehicle maneuvers that indicate a collision or rollover is imminent. It can tighten the front seat belts, adjust the front passenger seat and close the windows and sunroof all to keep you and passengers protected in dire situations. Pre-Safe is another first for Mercedes-Benz and the industry, and it helps reduce the effects of a collision on one's hearing. When sensors detect an oncoming impact, a special "pink noise" is emitted to induce a natural reflex in the ear canal to assist in shutting out loud noises in advance of impact.
A combination of features, design and safety make this E-Class a trendsetter in the industry. With these top of the line features, it's no wonder that this vehicle is one that you must try for yourself. At #MercedesBenzBrampton, we are proud to help serve you with this vehicle among our many other fantastic Mercedes-Benz options. Our Brampton dealership is one of a kind here in Toronto, from our Mercedes-Benz parts to our inventory. You are missing out if you don't consider Mercedes-Benz as your next vehicle. If you'd like to know more, visit our website at www.mbBrampton.ca. We look forward to serving you!
#MercedesBenzBrampton
#SilverStarBrampton
#MBBrampton
#MBB