The 2017 Mercedes-Benz E-Class Coupe Brings The Joy Out Of Driving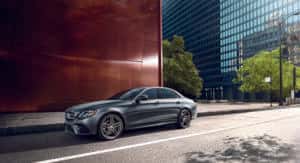 Mercedes-Benz Brampton hosts many special Mercedes-Benz vehicles, one of the standouts is the 2017 E-Class. This vehicle is a standout ride that will make you a known commodity all around Toronto.
Design
With an unmatched style, the E-Class are the only vehicles in their class to roll down all four windows with no framework in between. Embodied by a lean physique and a confident stance, this vehicle invites you to drive at any pace you desire. A standard panorama roof features a heat-reflecting tinted glass to keep the sun off of you while driving. Being the only power all-glass roof in its class, you can offer a spectacular view of the sky to all passengers both front and back. Twin sport seats up front are 14-way power adjustable and divided by a console, with all four seats being individually contoured, featuring integrated head restraints and hand-fitted leather.
Performance
Two advanced biturbo Direct Injection engines can fine-tune their fuel and spark to match your desired performance. The E400 Coupes feature a 329-horsepower 3.0 liter V6 while the E550 has a 402-horsepower 4.7 liter V8. When power meets efficiency, our ECO Start/Stop allows you to save even more fuel with automatic engine shutoff at stoplights. The engine pairs with Agility Control suspension on the E400 Coupes that instantly recalibrates to any road service, delivering a balance that keeps you in control. The E550 has a sport-tuned Dynamic Handling suspension that allows you to alter the damping rates, accelerator response and shift points with the touch of a button. An advanced 7G-Tronic 7-speed automatic transmission works to be the most responsive transmission yet. It times its shift points to your driving style to adapt to the best efficiency possible. Lastly, the E400 4Matic all-wheel drive is lightweight, nimble and fuel-efficient as it conquers anything from rough wintery conditions to winding roads.
With the E-Class of Mercedes-Benz, you won't have to look anywhere else for the vehicle of your dreams. Our #MBBrampton staff invites you to our Brampton Ontario dealership where we carry all Mercedes-Benz vehicles and Mercedes-Benz parts. For more information, visit our website at www.mbBrampton.ca.