The 2017 Mercedes-Maybach G650 Landaulet Makes Its Debut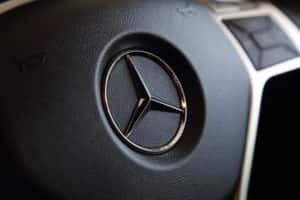 The next G-Wagen has made its debut at the 2017 Geneva Motor Show and in a leaked video. This open-air off-roader follows the dramatic debut of the Mercedes-Maybach S650 Cabriolet last fall and is the first off-roader from Mercedes. Only 99 G650 Landaulets will be built and are being expected to reach rich owners by fall. Since 2015, over 15,000 Mercedes-Maybachs have been made.
The Maybach G-Wagen features a Mercedes-AMG V-12 twin-turbo engine that delivers 621 horsepower and 738 lb-ft of torque. Mercedes-Benz Marketing Head Dr. Jens Thiemer says, "With the Mercedes-Maybach G Class Landaulet, we are now extending the Mercedes-Maybach portfolio to include the world's most iconic and prestigious off-roader."
On the exterior, the G650 sports a lot of chrome, including the radiator grille and front ad rear underside guards. Wheel-arch flares are highlighted in carbon fiber and the spare wheel is mounted around back on the right side of the vehicle. With half of the rear end missing, the third brake light hovers above the spare tire.
Mercedes says that the wheelbase is 135 inches long, while the overall length is 210.4 inches and the height is 88 inches. It rides on 22-inch twin-spoke alloy wheels and features an electric fabric top and portal axles similar to the ones found on the AMG G63 6×6. These portal axles provide a ground clearance of nearly 18 inches. It also features 100-percent differential locks, which can be engaged while moving.
Inside, the front passengers get a hardtop while rear passengers can go topless with the push of a button. There is also an electric glass partition that separates the front and rear sections of the vehicle similar to ones you find in a limousine. The glass can also be changed from transparent to opaque.
The rear seats can be set to a fully reclined position, thanks to the 22.75-inch wheelbase. Rear passengers also have a business console with thermal cup holders between the seats.
The debut of the 2017 Mercedes-Maybach G650 Landaulet shows that Mercedes-Benz is still proving their excellence to others. With an unbelievable package that only a select few will get, you'll be lucky to find this on the street. Our Mercedes-Benz dealer in Brampton looks to uphold that excellence. For more information, visit our website at www.MBbrampton.ca or visit our Brampton dealership.
#MercedesBenzBrampton
#SilverStarBrampton
#MBBrampton
#MBB