The Best Burgers in Brampton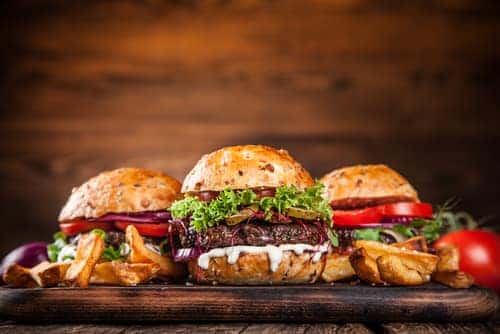 Everyone loves a good burger, right?  At Mercedes-Benz Brampton, we were talking about our favourite burgers in the area the other day.  There was quite a list! We thought we'd share our top four with you.
The Works Gourmet Burger Bistro
The names of the hand-pressed Canadian beef burgers are almost as great as the burgers themselves, like 6 Degrees of K'vin Bacon, Smokey Mountain and Onion Ringer Burger. We also love their Wrecking Balls, which are bacon-wrapped cheddar tater tots served with bacon and roasted garlic aioli, served on a bead of bacon strips.8 Queen Street E, Brampton
Sonny's Drive In
Sonny's has been serving up delicious, juicy burgers for as long as we can remember, and with very American-esque size portions!  The fries will easily serve two, as well. This is our late night go-to burger place. And we love their poutine, too! Everything is take out and cash only.  A long-time locals favourite! 21 Kennedy Road N, Brampton
On The Bun
Our #1 choice here is the Loaded AK-$& Burger.  You've just got to try it to believe it. You can stack it high with extras like grilled onions or mushrooms, extra cheese, gravy and more. And their fries are as good as their burgers.  Choose Masala, Cajun, Poutine, Apple Butter or Experimental Fries. 5030 Maingate Drive, Mississauga
Five Guys
Yes, it's a chain. But if you haven't stopped to find out what all the fuss is about, go today.  It starts with free peanuts in the shell–always a good thing in our book. And the burgers? Big, juicy, delicious and available in large and little sizes. And their list of free toppings is unbelievable, from grilled onions, green peppers and jalapenos to BBQ sauce, hot sauce, A1 sauce, mayo and more.  They also have hot dogs, veggie and cheese sandwiches, too. 48 Peel Centre Drive, Brampton
Get a Taste Of Great Service At Mercedes-Benz Brampton
Whether you're looking for a great new or certified preowned Mercedes-Benz Ontario, or need a simple oil change, you'll experience exceptional service.  The team receives training that is usually reserved for employees at five-star resorts! The Mercedes CA staff is attentive, eager to please and committed to providing unparalleled service. Come see for yourself!