The Luxurious 2017 Mercedes-Benz GLE43 Is For The Whole Family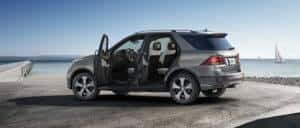 Mercedes-Benz Brampton of Toronto carries many great Mercedes-Benz vehicles, including the 2017 Mercedes-Benz GLE43. This family-friendly crossover adds the AMG brand without the traffic tickets and speeding danger.
The 2017 GLE43 replaces the GLE 400 model with a standard crossover-SUV styled GLE and a Coupe version that features a more sloping, fastback-style rear roof. The former is a more daily-use vehicle that contains better cargo space while the latter is more visually appealing in its striking profile.
The GLE43 is powered by its 3.0-liter bi-turbo V6 that churns out a respectable 362 horsepower and 384 pound feet of torque. The transmission is an AMG-enhanced nine-speed automatic that performs like an AMG in its all-wheel drive, braking and suspension. This combination makes the GLE43 handle straights and corners like a sport vehicle. Fuel economy comes in at an EPA-rated 17 miles per gallon city and 23 miles per gallon highway, a good range for a sporty vehicle.
A great combination of family ergonomics and beautiful packaging are what makes the GLE43 really stand out. It is very easy on the eyes from the outside but still demands your attention when driving by. On the inside, the luxury that Mercedes-Benz is known for isn't forced upon you, as everything is placed well while being accommodating.
#MercedesBenzBrampton is proud to carry a wide selection of Mercedes-Benz vehicles and Mercedes-Benz parts. Our Brampton dealership invites you to shop our GLE43 among our other great offers we have for you. For more information, visit our website at www.mbBrampton.ca.