Toronto's Best Ethiopian Restaurants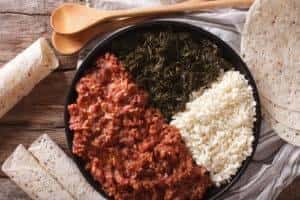 At Mercedes-Benz Brampton, our #BramptonOntario dealership loves to take our taste buds on an adventure within the city of Toronto. One of the most underrated and unique food experiences is Ethiopian food. It has a colorful presentation, fits a wide range of diets with halal, vegan, low-fat and gluten-free options.
–
Abyssinia Restaurant
This restaurant is located in Danforth and features the most authentic Ethiopian cuisine in the city. Owner Chef Senedu dedicates the restaurant to keeping the dishes as rich and complex as the ones she ate growing up in Ethiopia. The vegetarian dish features spicy lentils, yellow split peas, sauteed cabbage and other Ethiopian veggies. Meat lovers will want to order the Cha Cha Tibs which is a lamb short rib dish with jalapenos, onions and red bell peppers.
–
Nunu Ethiopian Fusion
Nunu's is perfect for a date or dinner with friends in the Queen West neighbourhood. The contemporary modern design and open kitchen gives it a vibe that bodes well with the crowd. Their menu includes great vegetarian and meat options as well as unique African favourites like the Kenyan Bistecca con Ugale, which is a polenta-like dish with steak. The Misto Meat (traditional meat dishes) is a good choice for your first time along with their Tej cocktail (spiced rum, boiled honey with nutmeg, cinnamon, Gesho, lime juice and soda).
–
Bu'na: The Soul Of Coffee
Dedicated to Ethiopia's greatest discovery, Bu'na revolves everything around coffee. You can experience a traditional Ethiopian coffee ceremony or take a coffee sommelier class. For food, Bu'na offers items like an injera wrap, which is a twist on Ethiopian flatbread.
Ethiopian food is something that everyone should try at least once, regardless of how you think of it beforehand. The dining experience combined with the great food leaves everyone surprisingly satisfied and full. Our Brampton Ontario staff hopes that this list helps you find the perfect spot for you to try and we hope that you can also give our Brampton dealership a visit as well. For more information visit our website at www.mbBrampton.ca.