Toronto's Best Grilled Cheese Sandwiches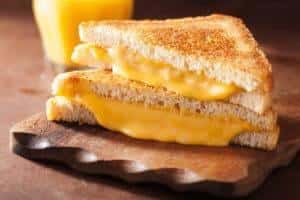 Mercedes-Benz Brampton of Toronto loves our grilled cheese sandwiches. Toronto is home to some of the best selections of grilled cheese sandwiches and our staff has discovered some great places to eat them.
–
Leslieville Cheese Market
Both a gourmet market and local eatery, Leslieville Cheese Market has a selection of over 100 gourmet cheeses. There are plenty of made-to-order grilled cheese sandwiches available and the Chipotle Tuna Swiss Melt is a fan favourite. This sandwich comes with crispy bread and rich cheese that complements the strong, salty tuna.
–
Prohibition Gastrohouse
Located in a big space, Prohibition is known for good service and a menu that showcases one type of each dish: one chicken dish, one beef dish, one merlot, one lager, etc. Their goal is to remove the burden of choice and to become the best in each category so that the customers are always satisfied. One choice on the menu is the Inside-Out Pulled Pork Grilled Cheese Sandwich made with fatty pork that is smoked right outside the restaurant in their own smoker. It is sandwiched by house-baked sourdough bread and delicious cheese crusts the outside layers while gooey cheese busts from the middle.
–
OM Grilled Cheese
OM keeps everything local by getting much of their produce from the surrounding Kensington Market. Their Roman Holiday is a hearty vegetarian sandwich with arugula and an olive pesto with vibrant tomato and a blend of provolone, asiago and mozzarella cheese.
–
White Brick Kitchen
This cozy diner features classic foods that we all enjoyed as children. Their classic grilled cheese comes with a blend of cheddar, provolone, American and mozzarella cheese placed into a quarter of thick white bread, creating a mouthwatering sandwich. Their house-made tomato jam adds the perfect amount of acidity and sweetness with the cheese.
–
Our #MBB staff hopes that we helped you find the perfect spot to fix your grilled cheese appetite. We also invite you to visit our Brampton dealership to browse our Mercedes-Benz vehicles and Mercedes-Benz parts. For more information, visit our website at www.mbBrampton.ca.