Toronto's Best Persian Restaurants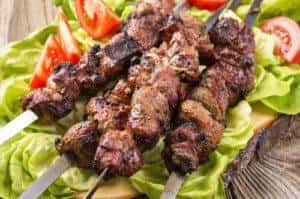 Toronto has approximately 100,000 Iranians living in the #GTA. That explains why it takes almost no effort to find great Persian food around the city. Our Mercedes-Benz Brampton staff loves to explore new foods and we have a list of Persian restaurants for you to check out for yourself.
The Pomegranate
As soon as you walk into the Pomegranate, you'll be taken aback by the handmade textiles and the unique blue tile work that mixes well with the Persian art and poetry. The experience continues with the food, as meat eaters will fall in love with the lamb and chicken polo dishes. Vegetarians have options as well, such as the charred eggplant or mushroom stew with pomegranate syrup. This restaurant only seats 40, so a reservation is a must if you want to dine here.
Banu
Located next to Trinity Bellwoods Park, Banu brings you the kebabs and vodka to give you a feeling of pre-revolution Tehran. You can sip a fresh cherry vodka martini while enjoying Chenjeh, a grilled veal tenderloin. There is even a Western mix here, as they offer a Banu Burger topped with sheep's milk cheese. If you're especially daring, go for the Del, a grilled cow heart.
North Restaurant (Shomal)
Shomal (Farsi for "North") is located in 'Tehranto', a cluster of Persian shops and restaurants on the north end of the city. Their signature tender veal in pomegranate sauce is called the Kebab Torsh is a favorite among regulars. Eggplant lovers or vegetarians will want to go with the Bademjan Kebab, an eggplant filled with walnuts, pomegranate and spices.
These great Persian restaurants are definitely something you should at least try once. Our Brampton dealership encourages you to expand your taste palette and enjoy the great restaurant scene that Toronto has to offer. We also invite you to our Mercedes-Benz dealer in Brampton to check out our selection of Mercedes-Benz vehicles and genuine Mercedes parts. We'll cater to your needs and make sure you leave satisfied! For more information, visit our website at www.mbBrampton.ca.