Why Mercedes-Benz SL Class is The Ultimate Roadster Around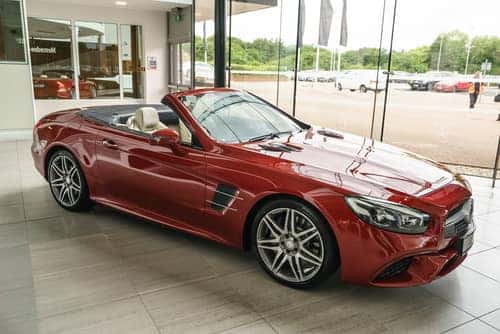 There is absolutely no doubt at all that Mercedes-Benz is a brand name that represents superiority in automobile manufacturing. There is no class of vehicles left in which Mercedes-Benz has not represented itself with a model of its own.
So when it comes to grand touring roadster cars the Mercedes-Benz SL Class has always been the ultimate choice of many people for decades.
History
Mercedes-Benz SL Class is famous around the world for being a two seat roadster. However, it started as a two door coupe and that coupe was perhaps one of the most famous cars from the 1950's, the 300 SL. The 300 SL was famous for its gorgeous styling and of course for its iconic "Gull wing" doors. It was introduced in 1954 as coupe and continuedproduction till 1957. In 1957 the 300 SL was re-introduced as roadster with normal doors and this model laid the foundation of the car we know today.
Throughout the years the SL class has introduced some of the most iconic models that included the gorgeous body R107 which was launched in 1972. It was the first time Mercedes-Benz introduced the big V8 in the SL Class.
2018 SL Class
The 2018 Mercedes-Benz SL Class is from the current sixth generation. It's the R231 model that was introduced in January of 2012. The new SL is built entirely out of aluminum to save weight.
Design
The new 2018 SL has retained its beautiful long hood grand touring style with gorgeous back end. It received the new Mercedes-Benz head and tail LED lights design with its 2017 face-lift. The car features a retractable hardtop that is electrically operated. The hardtop is also available with a panoramic roof option as well.
Performance
The 2018 SL comes with different variants in terms of engines. Following are the engines and their horsepower numbers that are available for the new SL:
5 L V6 302 HP
0 L V6 Bi-Turbo 329 HP
7 L V8 turbo-charged 430 HP
5 L V8 turbo-charged 429 HP
0 L V12 turbo-charged 621 HP
Apart from the powerful engines mentioned above, the SL comes with a sports exhaust system and perforated front brakes with four piston calipers. It is also available with rear painted calipers perforated disc brakes as well.
It also features the Eco start/stop system for you to save fuel on useless idling such as on traffic lights.
Comfort & Convenience
The new SL comes with heated and ventilated seats that are also coated with sun reflecting leather interior. The seats also feature electrical setting for you to adjust them in a perfect posture.
It also features all the luxury options that you will find on a typical Mercedes-Benz such as interior ambient lighting, electric trunk closing, hands-free trunk opening, soft closing doors and illuminating entry system.
Mercedes-Benz SL class is designed for people who enjoy powerful cars on long tours. It is a perfect car in its own category and has a strong heritage and a bright future. If you are looking to own a new or used Mercedes-Benz SL in Brampton, Ontario, then head over to: Mercedes-Benz Brampton